ERP stands for Enterprise Resource planning. ERP software is a business-performance software that helps streamline all the operations and activities. Educational institutions use ERP to customize and arrange their data according to their needs. An institution has to take care of maximum data as they have to maintain particular files for admission, exams, marks, fee accounts, reports, student information, web portals, etc. ERP software is a perfect solution for educational institutions to handle such big data.
Moreover, it gives complete control over all operations and activities in a specific institution. ERP software interconnects all the departments in the schools, including finance, academics, administrative, infrastructure, and communication. It makes it easier to exchange information among departments.
Millions of people were affected by the outbreak of Covid- 19. It created havoc all around the world. Some sectors took the help of online technology to continue with their work. Similarly, educational institutions started teaching on various online platforms. However, schools and institutions have to face many technical and financial problems.
They faced difficulty in arranging and gathering data.
Students were not taking studies seriously.
There were problems in taking exams and tests
Many students have to drop out as there were issues in conducting admissions.
Lack of devices or proper network connections (Common for both teachers and students)
CHALLENGES FACED BY INSTITUTIONS IN IMPLEMENTING ERP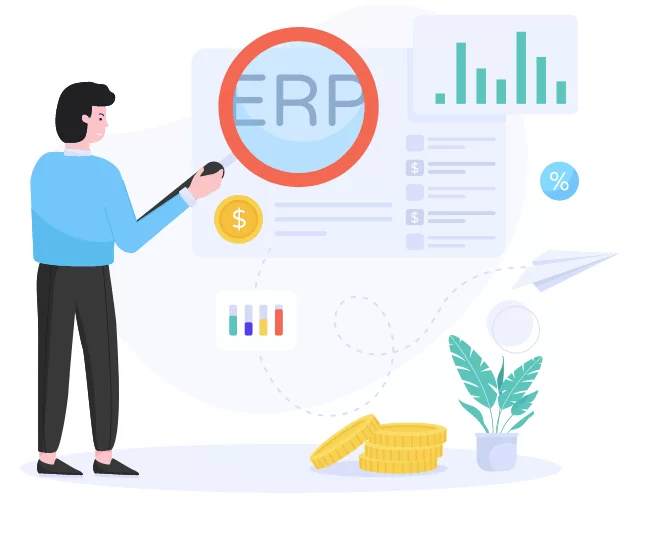 But there were some challenges faced by educational institutions in implementing ERP during COVID-19. The management needed to know everything about an ERP before applying it. Various challenges faced by institutions by implementing ERP are listed down below-
Collection of previous data of Institutions
ERP provides single, accurate data for the whole organization. An essential step in ERP is data migration, which involves moving data from multiple older devices into an ERP database. Several institutions to streamline their data opted for ERP software. The major challenge faced by institutions was collecting information during the pandemic time, as most faculties were located in remote areas.
Many good ERP provider companies provide a flexible and robust ERP system that stimulates institutional growth and success to troubleshoot this problem. So, even in the pandemic period, institutions can implement software without any data glitches.
Train teachers and students about ERP
After implementing software, the problem faced is difficulty in taking proper training and providing desired authority to managers and students.
This can be overcome by taking training digitally from a good ERP provider. Training digitally and repeatedly contacting the implementation team helps the managers and faculty understand the ERP process correctly. Then they would easily be able to convey the same to the students.
Resistance
ERP implementation did not convince many institutions during pandemic times as there was economic uncertainty everywhere.
So, to overcome this, various ERP providers started providing services at a low cost. As a result, during the pandemic, everyone preferred the conduction of assignments, attendance, tests, etc., more flexibly and easily accessible by both teachers and students.
Internet issue due to the remote area
One of the institution's most significant challenges was maintaining proper network connectivity and bandwidth for all faculty and students.
They can make it compulsory for students and managers to have a good internet connection. It can help them opt for ERP and utilize its benefits to the fullest.
Communication
It is essential to have excellent and effective communication. Unfortunately, institutions were often in a dilemma whether to implement ERP or not. This causes chaos in communication.
But there is a need for institutions to analyze and understand the usage of ERP software. ERP software is a powerful tool that improves communication by completing tasks and projects.
Covid case among the faculties or management
Many students got infected with the virus during the pandemic, which affected the overall management. This forced the educational institutions not to opt for ERP.
One of the best solutions for this challenge is to give some time to Covid patients to recover and become fit. Moreover, ERP is beneficial for an institution as once the patient's health becomes stable, they can continue to access or understand ERP.
InventtEd – BEST ERP SOFTWARE FOR EDUCATIONAL INSTITUTIONS
InventtEd is a single centralized 360 AI platform designed to transform the school to the next level. It is committed to creating agile, effective AI solutions for the education sector. It's a one-stop solution for schools from basic ERP to advanced AI technology. It provides various Institutional ERP services like:
Student information system
Teacher management system
Classroom and Section management
Payment and fee management
CALL-TO-ACTION
Looking for an ERP service provider platform, get in touch.